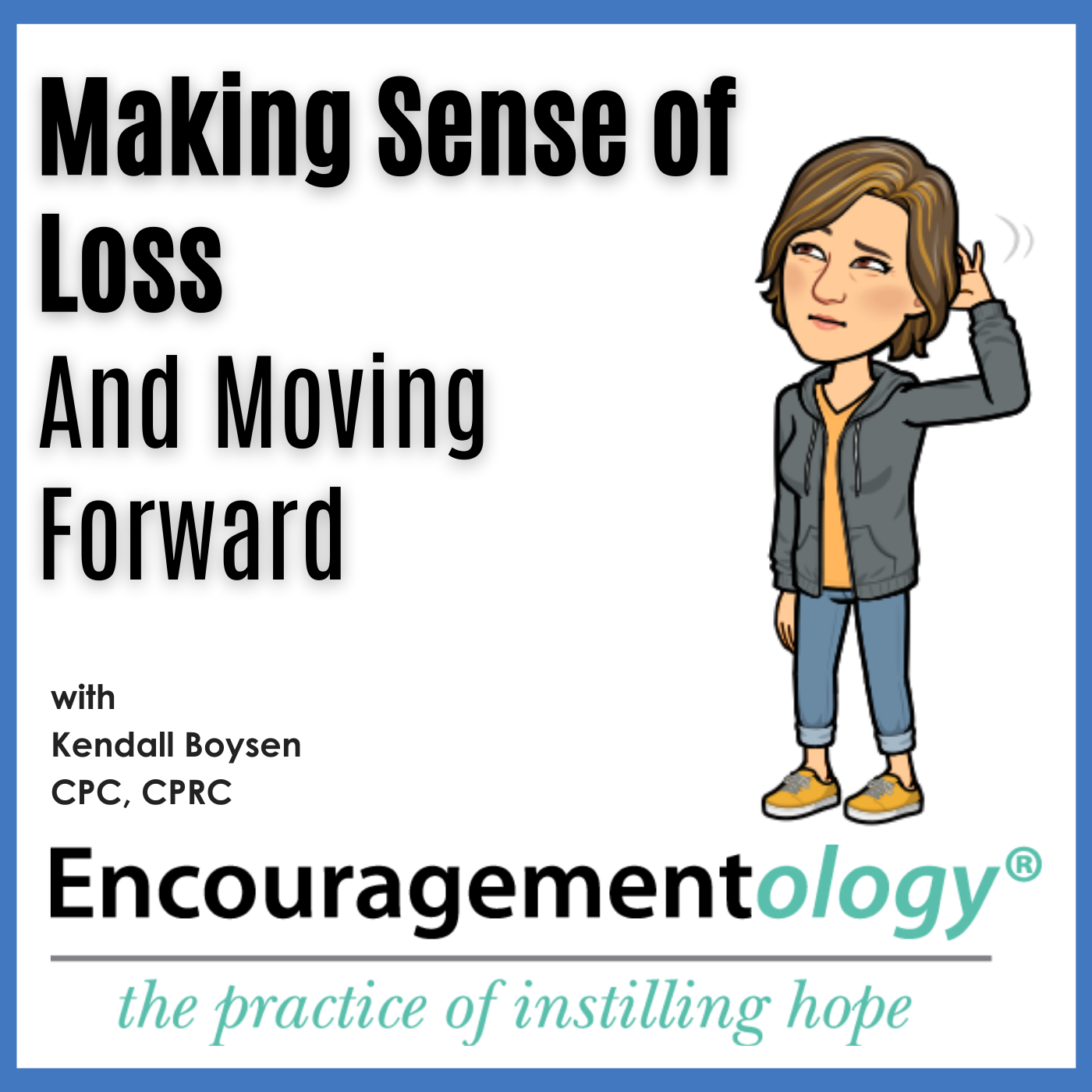 SHOW NOTES:
On this show...we aren't pretending to have all the answers or even the navigation tools to move on or get going in the right direction. We're just trying to make sense of loss and move forward. Coping is an individual skill that everyone has to come to in their own time. You might crave comfort and support from family and friends and then again, you may want to retreat into your own cocoon until you are ready to face tomorrow. Loss also can describe a multitude of deprivation. You might be faced with a tragedy of biblical proportions or slowly losing something you cherish. We can grieve life-changing events as well as missed opportunities. All come with their own challenges and adjustment periods and neither should we judge ourselves harshly nor push ourselves to move too fast through the process. It's important to encourage and nurture yourself as well as your friends and loved ones. Gentle reminder; we are all unique individuals and what you find sad, fun, outrageous, brilliant, or mad - may be slightly or radically different from others. 
Encouragementology is about all of life's challenges and loss is a big one. We all will and have dealt with grief at some point in our lives.
"The risk of love is loss, and the price of loss is grief - But the pain of grief is only a shadow when compared with the pain of never risking love." Hillary Stanton Zunin
You only experience profound grief when you've experienced great love. Some say it's the trade-off. 
But that doesn't really help one get through it. We can all agree: Tis better to have loved and lost than never to have loved at all. - Alfred Lord Tennyson
As I said, we will be looking at all types of loss from different angles. But let's start with the most shattering as an attempt to cover the heartbreaking first and work our way into the light. The loss of a loved one.
I found some thoughts for exploration at healgrief.org: Understanding Grief and Loss: An Overview
It will never get easy no matter how many books you read or podcasts you listen to. Losing someone you love is the hardest kind of loss which is why we covered it first. Unlike the stages of grief….we can move on in the show, just like that. SNAP
What about losing a relationship, albeit love, friendship, or colleague? This has its own set of challenges. You lose someone but they didn't really go anywhere, just out of YOUR life. 
Whether you were on the giving or receiving end - breaking up is hard to do.  I've had my share of loss during my lifetime and the hardest part to me is the "what ifs" or the "what did I do's". You can go on an endless pursuit for something that will make sense and give answers where there are only questions. But is any of that real? It's easier for us to fabricate that moment in time that the disillusionment happened than to accept that it's just time to move on or that everyone isn't supposed to be in your life forever but instead, come and go.
Surviving A Relationship Break-Up - Top 20 Strategies from Dr. Kim Maertz At the Mental Health Centre, University of Alberta
Amy Morin helps us with Healthy Coping Skills for Uncomfortable Emotions found at verywellmind.com
KEY HIGHLIGHTS: Making Sense of Loss and Moving Forward
Gentle reminder; we are all unique individuals and what you find sad, fun, outrageous, brilliant, or mad - may be slightly or radically different from others.

You only experience profound grief when you've experienced great love.

There are no rules, no timetables, and no linear progression to overcoming grief

Your feelings are normal, and it's important to remember that at some point, it will get better.

 treat yourself with kindness, compassion, and without judgment. You have the right to grieve, and no one — including yourself — can tell you when it's time to end that process.

Your mind and body are connected, and physical health helps with the emotional healing process.

 If left untreated, both complicated grief and depression can lead to significant health problems, emotional damage, and more.

 Healthy coping means both identifying these feelings and allowing ourselves to experience these feelings.

As we talk to supportive friends and family members, we can come to some new understandings and relieve some of our pain. Holding all of these negative feelings in just doesn't work

When you're feeling distressed, ask yourself, "Do I need to change my situation or do I need to find a way to better cope with the situation?"
CHALLENGE: be kind and gentle with yourself, lean in to support from friends and family, search for coping strategies that aid support without feeling rushed. Loss and the grief associated with it have no timeline but offer hope that it will get better. 
I Know YOU Can Do It!