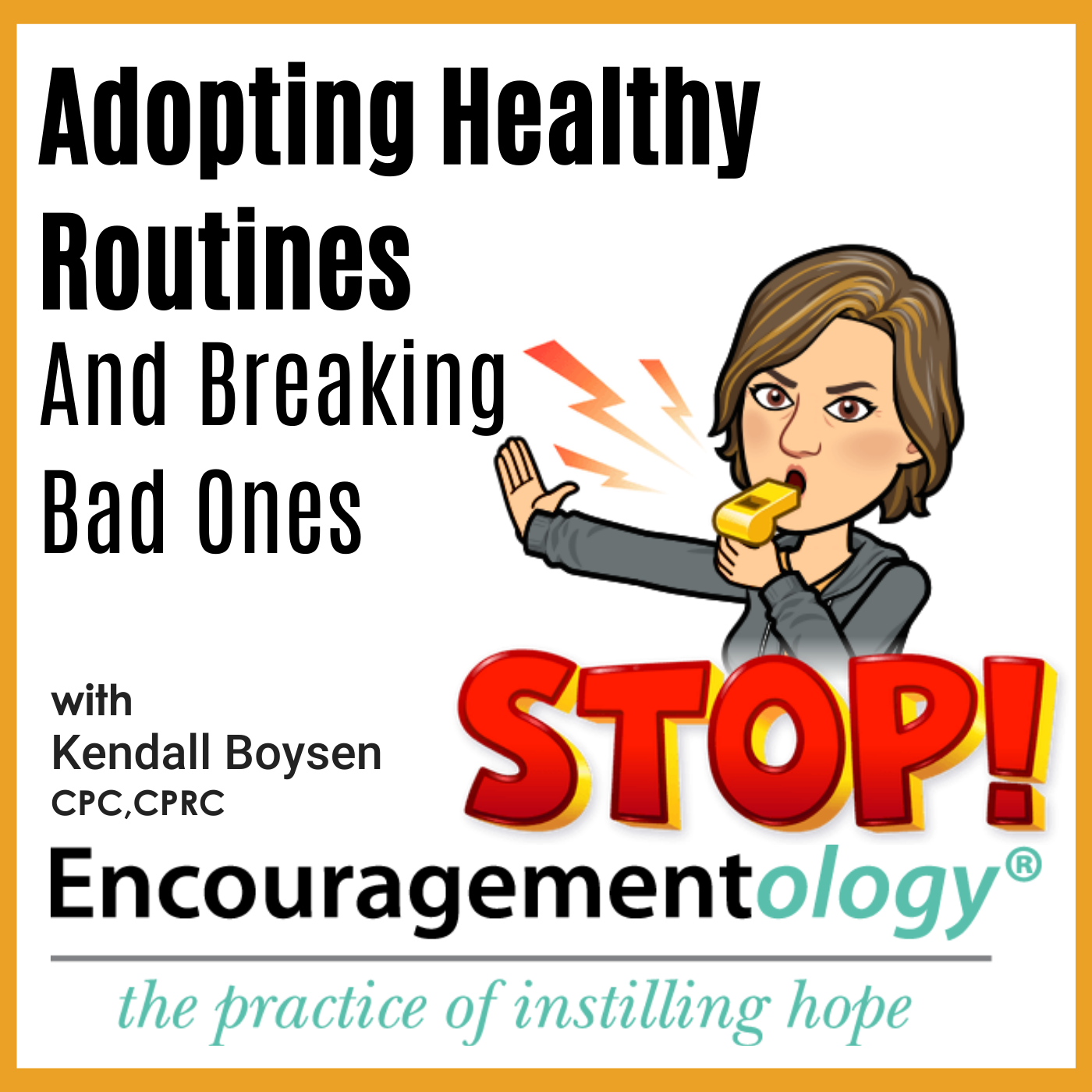 SHOW NOTES:
On this show...say goodbye to the stale, same ol'-same ol' self-sabotaging, counterproductive, and unhealthy routines that keep us stuck. We are adopting good ones and breaking bad ones. Yep, it's that simple. Well, simple to say it but every good plan is just a "good plan" without action. So get ready to take action! Gone are the days of endless excuses and pathetic procrastination. We are about to give ourselves a swift kick in the shoulda, woulda, coulda, and get busy. Tired of wanting to get somewhere but never feeling forward momentum?
Think about your day, week, month, or year. How much of your time is spent on autopilot. You know, just aimlessly going through the motions? Routines can be comforting because of their consistent nature but they can also be habitual rarely challenged. The scientific community suggests that we make about 35,000 decisions each day. Our brain can't possibly take the time to consider every single thing we do. We probably need to explore this concept from a few angles, Not being present or intentional, living in denial, and resistant to change. I can already gather that there won't be an easy dissection between them but some combo of all three.
Noelle Bloom puts things in perspective with 10 Signs You're Living on Autopilot- from an article she wrote for success.com.
You dread the day ahead.

Your daily routine is predictable.

You do things without thinking.

You can't seem to put your phone down.

You stay deep in thought.

You have a difficult time remembering.

You can't seem to let go.

You're not making meaningful progress.

You say "yes" more than you say "no."

You know there's a better life to be lived.
How much time do you spend visualizing your future? You might think it's fantasizing and even heard "Get your head out of the clouds" at least at some point in your life. But how are you supposed to get "there" if you don't see yourself there?  Start now - Imagine your life in the next 2 years. Where do you want to be, what are you doing, and what are you NOT doing. Be specific with the details. Just being in a better position, job, money,  or family is not a clear enough picture to create motivation.
Now, repeat this exercise for 5 years, 8, and even 10 - journal.  about it, create some vision boards like Pinterest to gather visual cues. Whatever helps put you clearly in the scenario.
10 years ago I started working on breaking bad habits. One by one - it was a personal competition between my reason and my desire. I have really strong will-power if I set my mind to something and really really want it. I saw these habits as stumbling blocks in the bigger picture. Until I was free and unencumbered, I couldn't get to where I wanted to go, and at the pace, I wanted to get there. I had to get real with myself and stop hiding behind excuses and false justifications. I'm good at selling myself on almost anything. Bigger picture - does this help propel me further or keep me where I am. Ok, it has to go. 
Once a year there is a big push to let go of the past and move forward, adopting healthier routines. Eating right, exercising, cleaning out & purging clutter are some of the top ones that come to mind. But what about our day-to-day, mindless routines - are they creating more resistance than necessary?
Nick Wignall shares 6 Subtle Habits That Are Sabotaging Your Happiness
Worrying about the future and other people's opinions of you

Isolating yourself when you're feeling down

Keeping quiet and "going with the flow"

Talking trash to yourself in your head

Trying to manage your stress

Believing your own thoughts unconditionally
Oh if it were that easy just to let it go!! Like a monkey on our back, we can accept all the reason in the world but when it really comes down to shaking it off, we create yet another justification point that our mind accepts. What happens next, we put off doing anything waiting for a more acceptable time. Hogwash. YOU have the power to STOP doing anything you don't want to do today or at least to redirect your energy in a positive new direction. 
HBR Patel shares some insight on Breaking Bad Routines, One Bad Habit at a Time in an article he wrote for Medium.
Our routine is aptly shaped by our habits. A perfectly planned day may fail to deliver the end result if procrastination is one of your vices. It takes dedication and patience to overcome those habits and for that Neuroplasticity will come in handy.
So, What is Neuroplasticity?
A term that refers to the ability of the brain to adapt itself or reorganize itself to the new changes in the behavior, environment, or other factors by two-fold action: Synaptic pruning, deleting the neural connections that are no longer necessary or useful, and strengthening the necessary ones that can help adapt to the change.
Consider these healthy routines in the place of bad habits:
Spend time by yourself exploring your own feelings

Read - take your mind on a journey of new places, times, and ideas

Create beauty in your space - make your home a safe and happy place

Make time for the special people in your life

Make space for new friends to become better friends

Challenge old and outdated beliefs in yourself and the world around you

Find ways to give back in a meaningful way - time, attention, resources
CHALLENGE: Be honest with yourself about mindless routines and bad habits that might be preventing you from reaching your goals. Visualize your life in five years and take action now removing the barriers from hitting that timeline. Replace bad habits with healthy routines that bring out the best in you!
I Know YOU Can Do It!