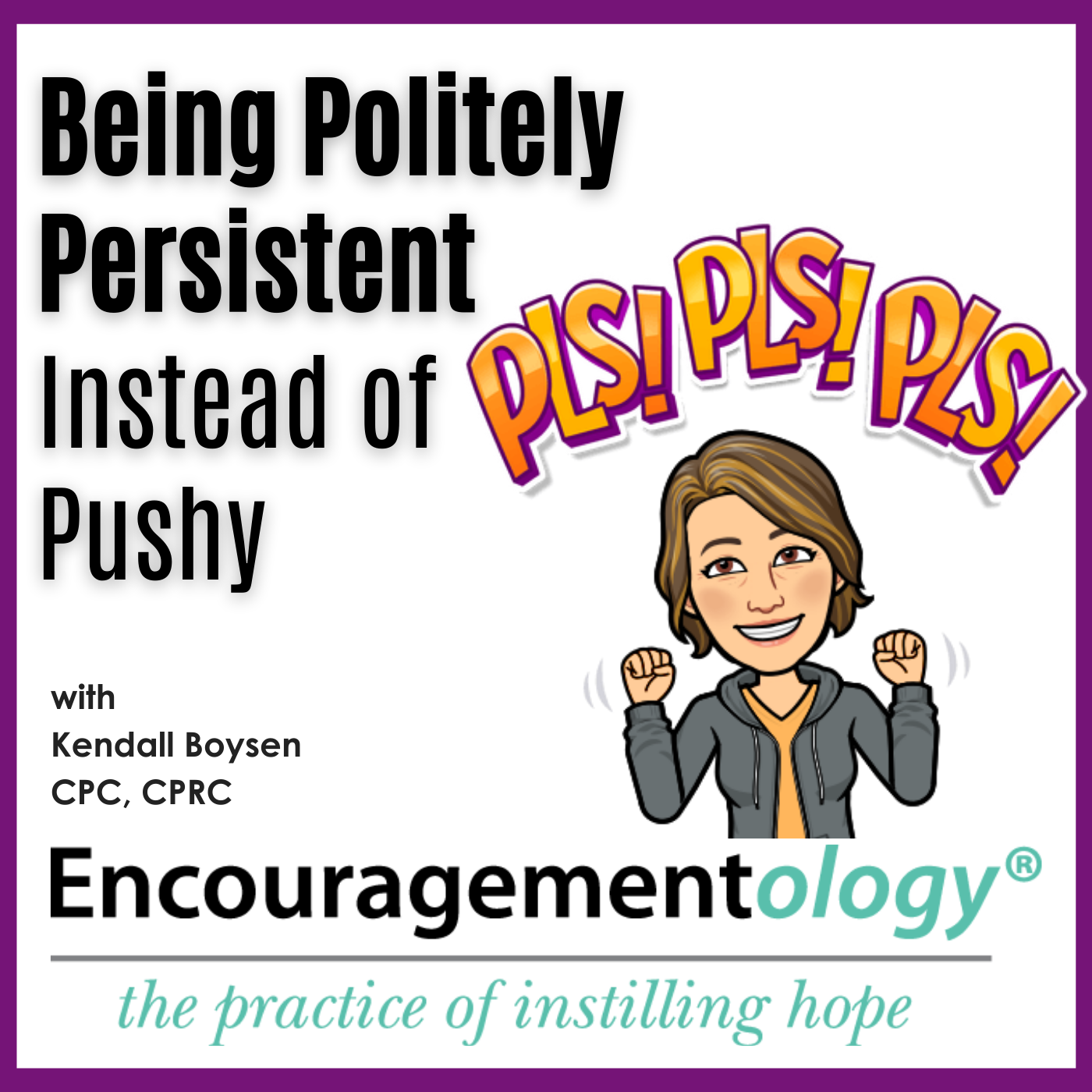 SHOW NOTES:
On this show...we aren't giving up but staying in there; focused and moving forward as we master the art of being politely persistent instead of pushy. Now that may come easy to you...OR you might be conjuring up a memory of being walked over, easily discounted, bossy, and demanding. Whichever seems like more your speed, finding a delicate balance can be difficult. Not to fear, we are going to walk through these behaviors to trying on what works best for you. The important part to remember is that you are in control of your own actions and reactions and that being your best and giving your all, is up to you. So many times we're easily detoured at the first sign of resistance or we barrel through unannounced and unaware making sure the outcome is in our favor. 
I've been in sales my whole adult life but even before I acquired those skills, I was born with a few of my own. The gift of gab, natural-born negotiation, and not easily accepting the word no. Yes, that one got me in trouble more than once. One of the things you learn as a salesperson is that "no" just means not now or that you might need to finesse your value proposition to better match the client's needs, but that's for another show.  You also learn that being pushy or aggressive will get you shut down and shut out which is not a good place to be when you rely on a prospective client's purchases today and in the future.
So it's imperative that you find a balance, persistent but not pushy. I had a client tell me that about myself one time. I think I apologized for continuing to push him and he said "you are politely persistent, not pushy".  What a relief and it's something that has stuck with me since.
 Alex Smirnov gives us the Top 6 Lessons You'll Learn from Working in Sales found at badgermapping.com
Here's an example of his technique found at changingminds.org
Z.Hereford explains The Power of Persistence found at essentiallifeskills.net
Carolyn Steber sheds a light on 9 Habits You Don't Realize Can Make You Seem Overbearing found at bustle.com Carolyn Steber sheds a light on 9 Habits You Don't Realize Can Make You Seem Overbearing found at bustle.com
We are going to finish up with 6 Ways to Persuade Without Being Pushy from Kevin Daum found at inc.com
KEY HIGHLIGHTS -
We "sell" in everything we do. We sell people on our ideas, we negotiate terms, we follow up, and we close deals. 

Developing networking and strong interpersonal skills early helps you get ahead in every area of life.

By listening more than you talk, you learn how to ask the right questions at the right time. 

 Only you can move you, forward.

One of the ways you can prepare for setbacks and obstacles is to anticipate potential problems and have a contingency plan.

When we are overwhelmed with a problem or difficulty, we don't have time to develop the persistence necessary to deal with a particular obstacle or setback.

Despite any old adage you may have heard and believed, you can always learn something new.

It can be tough to tell the difference between true assertiveness and habits that come off as too pushy, since they can both deal with getting what you want, telling people what you think, and having things go your way.

When people are being assertive [...] they are expressing their needs in direct, open, honest ways while still being respectful of the other person's needs and preferences

 You have to put yourself out there again and again. The best way to improve is to fail. You'll learn from your mistakes and become better
CHALLENGE: be willing to commit to self-discovery as you become more aware of what you think, how you react, and how it's perceived. Be diligent in your pursuit making polite persistence the goal instead of pushy.
I Know YOU Can Do It!