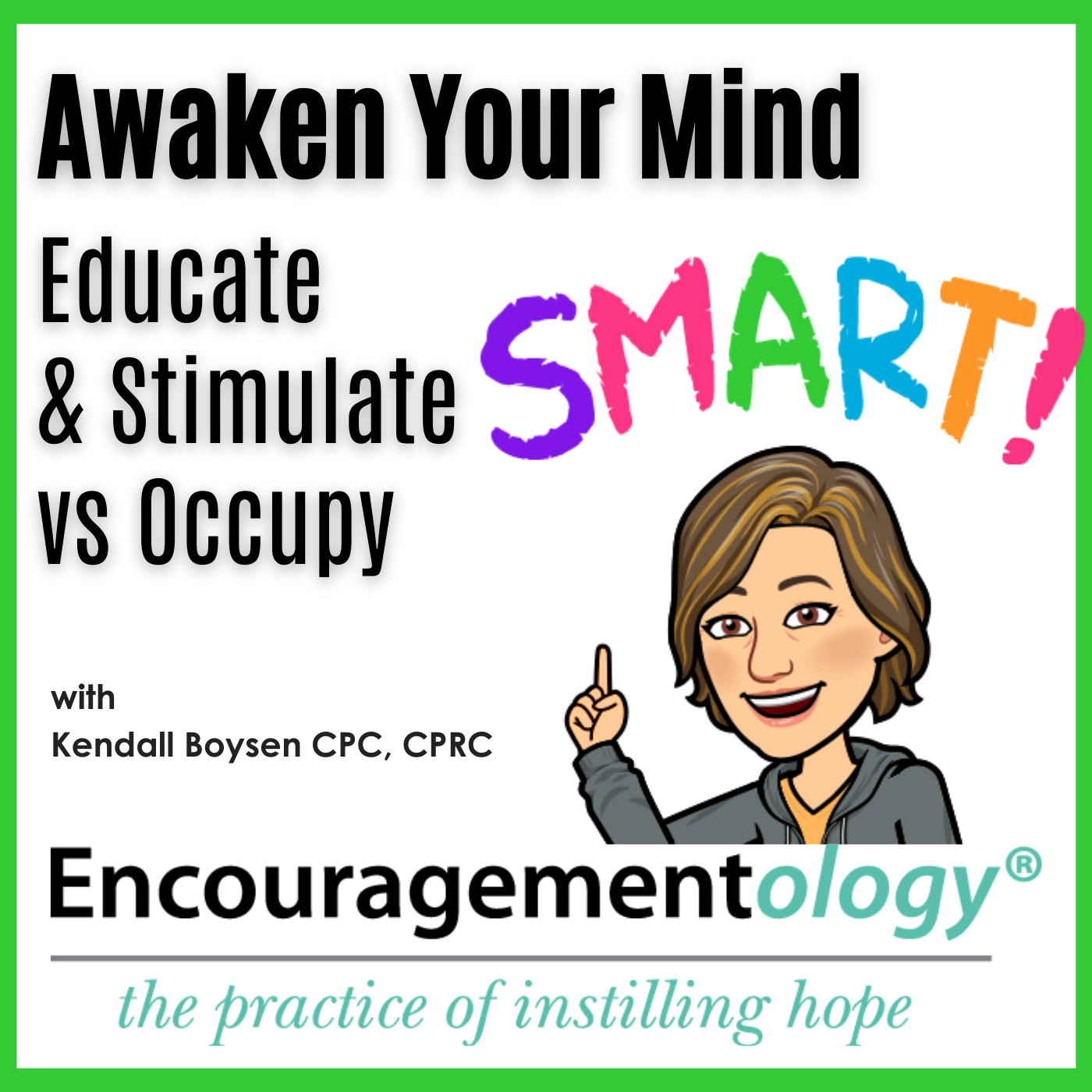 SHOW NOTES:
On this show... we aren't sitting back, enjoying the ride, and hoping to be entertained. We are seeking an "ah-ha" moment to awaken our minds as we educate and stimulate vs occupy. Now don't get me wrong, zoning out is fun and has its place. Binge-watching tv or hosting a movie marathon for pure entertainment is fun. But with everything, we're striving for a healthy balance. Spending too much time letting the world influence you instead of you making the impact might be short-sided. There are more resources now vs ever for you to make an intentional pursuit of knowledge. What do you want to know? Have you ever thought about what lights up the brain and when it might be more on autopilot? Well, just like the rest of your body, it needs healthy food and exercise to survive and thrive.
The topic of awakening your mind has been one I've kept in focus since my Father went to live at the VA nursing home. He has since passed but he struggled with Parkinson's and dementia. Watching his mind slip away was one of the hardest things I've had to deal with in my life to date. My father was a professor, an artist, an analytical thinker, an emotional communicator, and a compelling speaker. He had no trouble commanding an auditorium or captivating a five-year-old with a theatrical story. 
His voice was the first to go. He said it felt like he was being hushed from within and eventually it was hard to hear or understand most of what he said. Who would have known that shortly after my father retired from the university he would be diagnosed with Parkinson's? No one. It made me step back and see that precious reality with new light. We will never know what type of cognitive capacity we will have as we age. Nothing is guaranteed. 
If you truly believed that, would it make you look at today, differently? What would you want to see, do, hear, taste? Would you waste an hour or try to fill it with everything you find important in life? Would you search for a new adventure or seek the comfort of routine? Why wait for a diagnosis? You can live that way now. Intentionally seeking and pursuing knowledge and experience. 
Dr. Sven Hansen gives us much-needed detail in his article: Awaken Your Mind found at the Resilience Institute 
Maili from trackinghappiness.com helps us with: How To Live Life With Intention (4 Actionable Ways)
Eckhart Tolle is widely recognized as one of the most inspiring and visionary spiritual teachers in the world today. 
Living Your Purpose in Everyday Life
Vivian Giang helps us get started with: Neuroscience says these five rituals will help your brain stay in peak condition found at qz.com
KEY HIGHLIGHTS - Awaken Your Mind, Educate & Stimulate vs Occupy
Nothing is guaranteed. If you truly believed that, would it make you look at today, differently?

Mind is awareness. Mind allows us to shine a light on body, emotion, and brain.

When our health suffers, consciousness suffers. Fatigue, poor nutrition, overweight, low fitness, and distress destroy our capacity to awaken the mind. 

To be a good parent, leader, or friend recognizing the different ways life unfolds in a calm, respectful and empathic manner, enables creative responses.

Living with a plan is all about making stuff happen instead of letting stuff happen to you, about staying on your path and not getting sidetracked by life's distractions. 

Be the curator of your own life, take full advantage of this power, and make sure that everything in your life is there for a reason. 

You are here to enable the divine purpose of the universe to unfold

The world needs your awakening. And as you awaken, those who are just about ready will recognize through you that they are ready.

Both progress and setbacks are said to greatly influence our emotions. So the earlier in the day you can feel successful, the better—feelings of excitement help fuel behaviors that will set you up for success.

 Like other muscles in your body, if you don't use the brain, you'll eventually lose it. This means it's crucial to exercise your brain and keep it stimulated
CHALLENGE: Balance time-wasting and mental preoccupation with a healthy pursuit of the "ah-ha". Challenge yourself to learn, share, and grow. You are the personal trainer of this muscle, your brain. Create a regime that will stretch your limits but result in big payoffs. 
I Know YOU Can Do It!