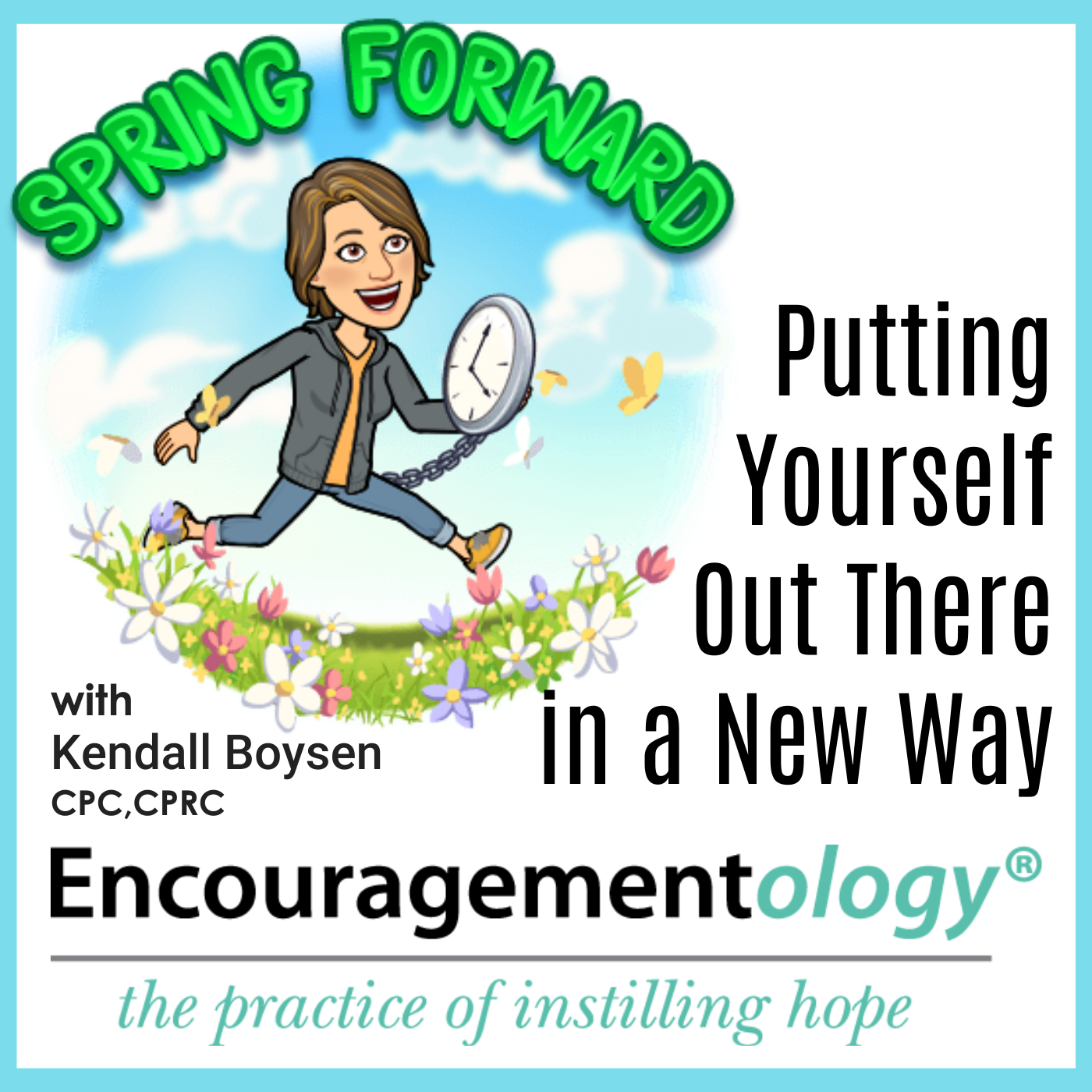 SHOW NOTES:
On this show...we're doing more than setting the clocks back, gassing up the mower, and stocking up on cleaning products. We are springing forward, putting ourselves out there in a new way. With new life comes new ideas and inspiration. Let's use nature's momentum to catapult us to new heights. Been intimidated to speak up, it's time to find your voice. Procrastinating a major life change, no time like the present to shake things up. Fearful of failure, fooey, you have to be down before you can rise up. Let's explore why now and why not now? 
For too long we've accepted the status quo, tabled our own dreams, discounted our desires, and waited….just waited for who knows what. That dream to either die or fall in our laps. That knock at the door where someone is standing on the other side with a big check, a long-lost brother, someone on a knee professing love, the keys to our new car, the nameplate for our corner office…..just fill in the blanks with whatever is plaguing you. 
Life happens and we get distracted. We grow up and reality sets in. Someone with bigger needs steps forward to take our place in line. We buy into the negativity and start doubting ourselves and our worthiness…..just fill in the blanks with whatever is preventing you from getting there.
Where is there? Great question. This is the biggest blank of all. What do you want to do next? 
We aren't going to spend time with regret, blaming ourselves for not going for it or for letting our dreams die. No ruminating over that season of your life when you thought everything and anything was possible...we were all there at one point or another.
Today is a new day and tomorrow has possibilities that today doesn't even know about. 
What do you want to do next? Step one. Step two will be about what is preventing you. And step three will be how to take action. 
Let's go! 
Jennice Vilhauer Ph.D. helps get us there with an article she wrote for Psycologytoday.com: How to Figure Out What You Want in Life
Don't want: I don't want a spouse who doesn't appreciate me.

Want: I want a spouse who adores me and treats me with respect.

Don't want: I don't want to work at this lousy job.

Want: I want a job that stimulates me intellectually and allows me to be creative. 
I was always selling something, a true entrepreneur. I started my first business when I was 8 or 9, selling my own toys on the side of the street. As a latch-key kid, you can imagine my Mother's reaction to my newfound success. Everything I did, I monetized from a homemade pretzel stand to daffodils at springtime. I had my own handmade jewelry store "Exception to the rule" catchy right? I created a custom shadowbox business and even tried to launch my own line of handbags. I have three trademarks and some might say a lot of pipedreams. But for me, all my attempts created some of the best memories I have. The excitement of a clever idea mixed with the planning and creating, the launch, and the first adoption. Whether that is an actual transaction or someone just getting it. It's a thrill. 
Today my desire is still there, just channeled in a different direction. I'm driven by people and the love I have to see them succeed. My transactions aren't monetary but soul-nourishing, which to me, is priceless. 
Putting yourself out there in a new way might mean rethinking what's important to you but mixing those ideas with the drivers that have always been in you from the start. 
Springing forward with a new idea may or may not include your life's purpose or passion - but aren't you curious? Understanding what you're meant for and what speaks to you will help you step into something new with confidence.
At jackcanfield.com he gives us 10 Life Purpose Tips to Help You Find Your Passion.
Explore the Things You Love To Do & What Comes Easy to You

Ask Yourself What Qualities You Enjoy Expressing the Most in the World

Create a Life Purpose Statement

Follow Your Inner Guidance (What Is Your Heart Telling You?)

Be Clear About Your Life Purpose

Conduct a Passion Test

Think About The Times You've Experienced the Greatest Joy In Your Life

Follow This Example of Finding Purpose

Align Your Goals With Your Life Purpose and Passions

Lean Into Your True Life Purpose
How about you? What got in your way? When did you change your course and abandoned your ideas? 
So many times we throw in the towel on wants and desires if we feel like we've missed that window of opportunity. "Well that was when I was young…" age. "Oh, when I was single I thought I would do this or that". Unencumbered. "If I had the money I might do this or that''. Financial excuses. 
Tracy Kennedy brings us 5 Steps to Discover Your Next - in an article she wrote for Thriveglobal.com
Step 1: Take a STEP BACK
Step 2: Take a look at YOU
Step 3: Identify WHAT COULD BE
Step 4: Open up the DOOR
Step 5: Bring it all to LIFE!
CHALLENGE: Use the new life of Spring to inspire you to take action. Be willing to grow in ways you've only dreamt of. Spend some time evaluating what's next and then be open to putting yourself out there in a new way! 
I Know YOU Can Do It!